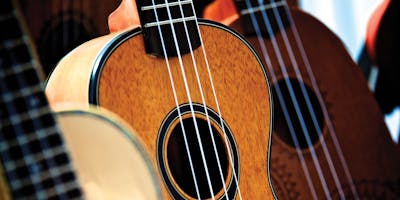 Ukulele workshop for seniors - Bendigo
Wednesday, October 2, 2019 at 2:00 PM - Wednesday, November 13, 2019 at 3:00 PM (AEST)
More Information →
A wonderful opportunity to learn the delights of the ukulele. Join us for this series of six free workshops with highly experienced jazz musician Kevin Harvey, culminating in a mini group performance. Good for the soul and good for the heart!
Places strictly limited.
PLEASE NOTE THAT ATTENDANCE IS REQUIRED FOR ALL SESSIONS:
Wednesday 2 October
Wednesday 9 October
Wednesday 16 October
Wednesday 23 October
Wednesday 6 November
Wednesday 13 November
Ukuleles supplied for week 1 after which BYO will be necessary (available for seniors discounted rate of $36 at Bat City Music, 33-35 View Street, Bendigo).
BOOKINGS REQUIRED.
**Please note: A phone number is required when booking a ticket for this session. This is in case we need to contact you regarding any changes to the session and may be used to confirm your attendance closer to the date. This information will be kept confidential. Please read our Privacy Information for more details: https://www.ncgrl.vic.gov.au/yourprivacy